Quick Links

Teamcenter Integration for Pro/Engineer
Teamcenter's integration for Pro/Engineer enables all the designinformation created in Pro/Engineer to be captured,controlled, shared and managedby yourorganization in a single, highly secure PDM environment.
Using this integration, designteams can quickly search and access Pro/Engineer parts, drawings, assemblies & manufacturingdata to eliminate timewasted trying to find and share design information, while reducing change orders by making certainthat everyone is working from the latest design information and enabling design teams at differentlocations and through your supply chain to work closely together to streamline the productdevelopment process through multi-site collaboration.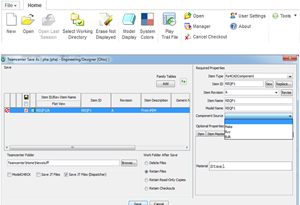 FaithPLM is helping customer to efficiently integrate pro-e, enable best practices to work in managed mode environment, to tune the performance and migrate legacy data.
Integration: 2TIER & 4TIER integration, Synchronize title block using Teamcenter database attributes, Mechanical Properties Synchronization, Seed Parts, Configuration of Ipem.properties (edit the existing file) Ipem.properties, site Config.pro, txd_imanmsg.txt, ipem.xml, Pro/E thumbnails, Server-based JT translation,
Best Practices: We help customer to enable best practices while performing various activities in manage mode environments on CAD data create, configure, edit models, drawing, assemblies along with relationship and associated auxiliary files, JT conversion, storing mechanical properties, working in multiple sessions, CAD centric data transfer in multisite, family tables , using partial load & load merge etc.
Performance Tuning: We ensure right performance tuning by rightly configuring the OS, Hardware, Server & Client system component which help you get right performance while performing various activities in pro-e manage mode.
Migration:
Pro-e Legacy Data Migration: We have unique methodology developed to migrate pro-e legacy data to Teamcenter which includes
Data Assessment & Analysis -> Data Cleanup -> Data Migration and Testing -> Production Rollout
Pro/ENGINEER design data migration to NX:
Loading PRO/Edata and corresponding metadata in Teamcenter
Content Migration Manager for PRO/E configuration
Establish a process of migration &data verificationlike drawing, model, BOM etc.
Overall Benefits
Less time spent by your technical staff in finding the correct revisions of CAD data
Consistent work process followed across all data formats
Faster product change and approval processes resulting in decreased time-to-market
CAD files integrated with all of your technical data to provide a single source of product information that supports your complete designthrough- manufacturing process