Quick Links

Redefining PLM Solutions
Redefining PLM system is becoming a necessity for most of the customer to ensure the PLM system is up-to-date and in right alignment with Teamcenter Infrastructure, Performance and Solutions to extract optimum values from the PLM system while addressing below challenges.
Data, Application Integration and User growth
Architecture Changes, New and Enhanced functionality by upcoming Teamcenter Releases
Capability mapping for new business requirement in Teamcenter
Existing issues like
Lack of critical content in existing solution designed
Queries and Data loading in tools like MCADare taking too long
Rich client performance degradation due to data growth, increased number of users, new integration, Teamcenter upgrade etc
The Teamcenter process keeps going down, connections are constantly being lost
Workflow get hang frequently
Uncontrolled storage growth for metadata and volume data
Weak performance tuning, scalability concerns
Poor Teamcenter System usage, configuration and development documentation.
Redefine coordination between system administration, networking, storage, and application support teams
Redefining monitoring and tuning of applications to ensure reliability and performance.
FaithPLM Solutions address above challenges cost-effectively through unique methodology to achieve best alignment of Teamcenter Infrastructure, Performance, and Teamcenter Solutions to ensure right value addition to business.
Process:
Perform Analysis of the existing Teamcenter environment by reviewing hardware, network, software, configuration, performance, third party apps, Use Cases, and data sets.
Report on redefinition requirement at various system architecture element
Redefine and achieve business goal:
Redefine global deployment to align with business, IT, Security, Performance and Usability requirements
Redefine infrastructure as per the business need while ensuring system interoperability and version compatibility
Redefine the system integration from old way to possible new way
Redefine security at metadata and data files levels as per the business need like compliance, ITAR, ADA.
RedefineTeamcenter solutions as per the business requirement while ensuring best use of new/enhanced functionality offered by Teamcenter.
Enable ROI improvement
Customer Benefits: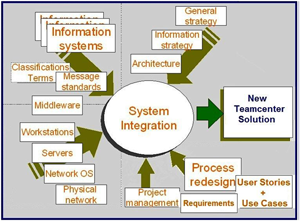 Teamcenter system usage to its fullest extent to ensure Teamcenter system is working with optimum performance
Redefined solutions may offer more benefits
Infrastructure is properly evaluated for scaling and tuned appropriately for efficient working
Ensuring benefits of Teamcenter new and enhanced functionalities are adding value to business at right time
Cost-effective tuning mechanisms to increase the performance of Teamcenter infrastructure, before thinking about expensive infrastructure upgrade
Mission:
Perform Analysis of the existing environment by reviewing hardware, network, configuration, third party apps, Use Cases, and data sets.
Recommendations to improve performance based on business needs and use.
Redefining business solutions developed in Teamcenter
Challenges:
Queries are taking too long
Takes too long to open data in SolidEdge
Expanding the BOM takes too much time
Rich client was performing fine, now performs much slower
As more users are connected performance gets worse
The Teamcenter process keeps going down
Teamcenter connections are constantly being lost
Workflow get hang frequently
User are not liking working in Teamcenter manage mode
Performance baseline not captured
Fail to understand storage growth requirements for metadata and volume data
Scalability projection / Performance optimization tuning are weak before system go-live
No existing performance measurements on current infrastructure
Poor PLM System documentation
Solution design lacks of critical content
Redundancy, fail-over, disaster recovery are not properly accounted for Lack of coordination between 3rd party supplier and SPLM
Performance baseline not captured
Fail to understand storage growth requirements for metadata and volume data
Scalability projection / Performance optimization tuning are weak before system go-live
No existing performance measurements on current infrastructure
Lack of coordination between system administration, networking, storage, and application support teams No proactive monitoring and tuning of applications
Overall System Analysis:
Evaluate hardware (Servers and clients)
Examine network and its components
Review and define/confirm Use-Cases and baseline performance
Review use-cases and related data
Understand third party apps including security software
Perform tests analyzing key Teamcenter parameters